>
>
>
LED Street/Shop sign
LED Street/Shop sign
Pixel Pitch :2.4mm, 3mm, 4mm, 4.8mm, 6mm
Size :490*1338*60mm as Frame size
Weight :18kg/unit
Feature Details :Nice housing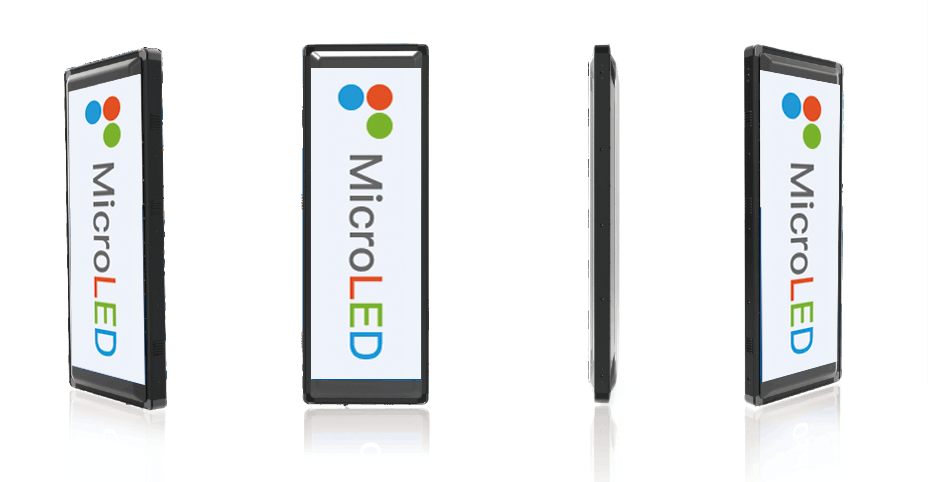 Features
Waterproof level: IP65.
Ultra slim design, only 60mm
Super light weight, only 18 kg/panel.
Single or double faced screen optional.
Easy and convenient installation design
Elegant appearance: with acrylic and aluminum alloy material.
Available pixel pitch: 2.4mm, 3mm, 4mm, 4.8mm, 6mm, both indoor & outdoor.
Diversified installation type: hanging, base, pole support ( Vertical/ Horizontal), etc.
Flexible control mode, like computer, mobile phone, WIFI, 3G, 4G, wired LAN, GPRS, USB, etc.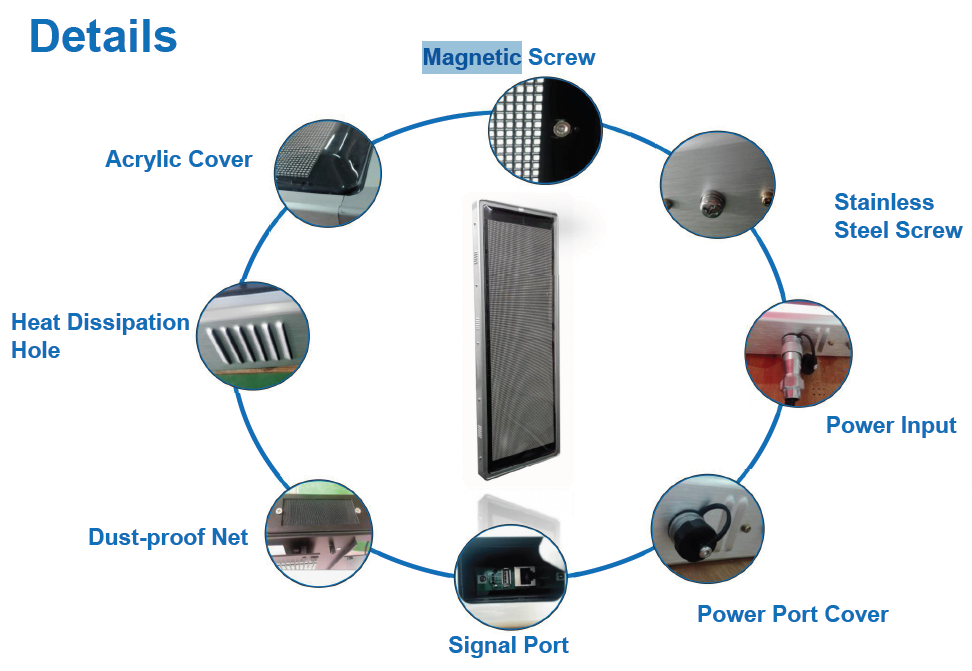 Applications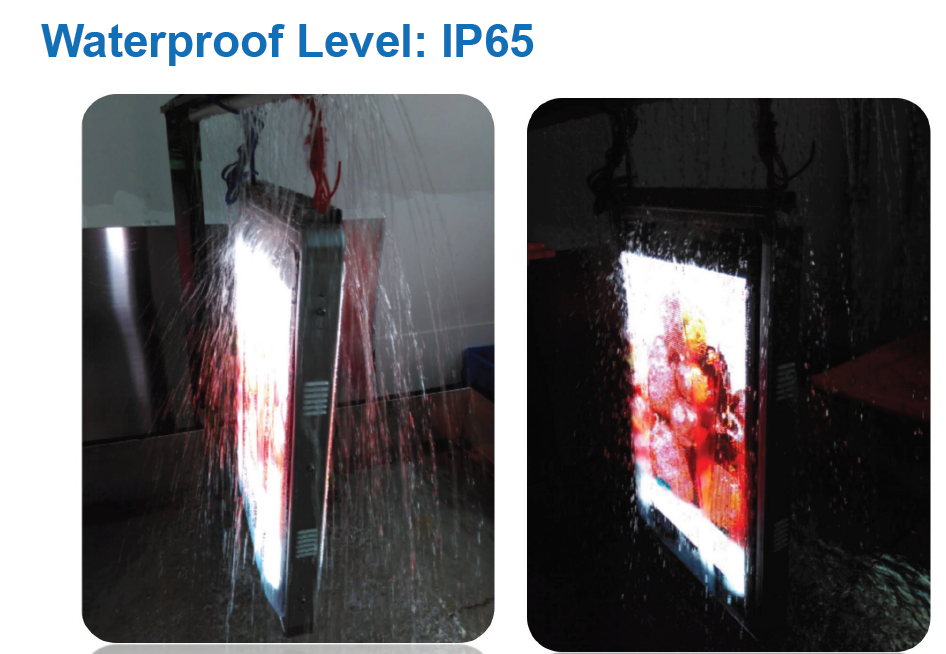 Different Screen Size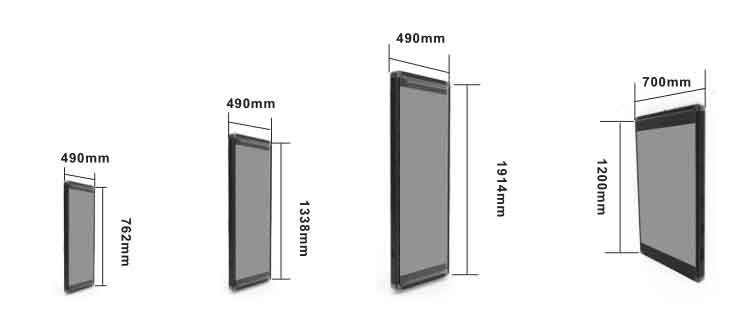 Technical Parameters
490mm Series LED Signboard Specification
Item
Moudle Size
Display Size
Total Screen Size
Weight
Screen Resolution
Pitch2.4mm
384mm*144mm
576mm*384mm
738*490*80mm
12kg±1kg
240dots*160dots
Pitch3mm
384mm*144mm
576mm*384mm
738*490*80mm
12kg±1kg
192dots*128dots
Pitch4mm
384mm*144mm
576mm*384mm
738*490*80mm
12kg±1kg
144dots*96dots
Pitch4.8mm
384mm*144mm
576mm*384mm
738*490*80mm
12kg±1kg
120dots*80dots
Pitch6mm
384mm*288mm
576mm*384mm
738*490*80mm
12kg±1kg
96dots*64dots
490mm Series LED Signboard Specification
Item
Moudle Size
Display Size
Total Screen Size
Weight
Screen Resolution
Pitch2.4mm
384mm*144mm
1152mm*384mm
1338*490*80mm
18kg±1kg
480dots*160dots
Pitch3mm
384mm*144mm
1152mm*384mm
1338*490*80mm
18kg±1kg
384dots*128dots
Pitch4mm
384mm*144mm
1152mm*384mm
1338*490*80mm
18kg±1kg
288dots*96dots
Pitch4.8mm
384mm*144mm
1152mm*384mm
1338*490*80mm
18kg±1kg
240dots*80dots
Pitch6mm
384mm*288mm
1152mm*384mm
1338*490*80mm
18kg±1kg
192dots*64dots
490mm Series LED Signboard Specification
Item
Moudle Size
Display Size
Total Screen Size
Weight
Screen Resolution
Pitch2.4mm
384mm*144mm
1728mm*384mm
1914*490*80mm
24kg±1kg
720dots*160dots
Pitch3mm
384mm*144mm
1728mm*384mm
1914*490*80mm
24kg±1kg
576dots*128dots
Pitch4mm
384mm*144mm
1728mm*384mm
1914*490*80mm
24kg±1kg
432dots*96dots
Pitch4.8mm
384mm*144mm
1728mm*384mm
1914*490*80mm
24kg±1kg
360dots*80dots
Pitch6mm
384mm*288mm
1728mm*384mm
1914*490*80mm
24kg±1kg
288dots*64dots
700mm Series LED Signboard Specification
Item
Moudle Size
Display Size
Total Screen Size
Weight
Screen Resolution
Pitch2.4mm
288mm*192mm
960mm*576mm
1338*700*80mm
24kg±1kg
720dots*160dots
Pitch3mm
384mm*144mm
960mm*576mm
1338*700*80mm
24kg±1kg
576dots*128dots
Pitch4mm
384mm*144mm
960mm*576mm
1338*700*80mm
24kg±1kg
432dots*96dots
Pitch4.8mm
384mm*144mm
960mm*576mm
1338*700*80mm
24kg±1kg
360dots*80dots
Pitch6mm
384mm*288mm
960mm*576mm
1338*700*80mm
24kg±1kg
288dots*64dots

Get the latest price? We'll respond as soon as possible(within 12 hours)