LED Media Facade
Pixel Pitch :42.5mm
Size :3400mm(W), Optional(H)
Weight :5.5kg/sqm
Feature Details :Structure-free/Light weight/ Front&back service
A Communication Canvas of Infinite Possibilities
MicroLED , the leading full service provider of woven metal fabric for architectural solutions worldwide, is also the
innovator of transparent media façade technology.MicroLED 's media façade offering includes two systems:
Mediamesh ® and Illumesh ® , both engineered and manufactured to exacting German standards.
As the pioneer of this complex and state-of-the-art architectural solution,MicroLED has defined the parameters of the
category implementing such critical factors as installation methodology, safety procedures and system variations.
Ideal for large-scale applications, MicroLED 's Illumesh ® illuminated metal fabric system allows system-integrated LED
lighting to project light onto the reflective metal mesh surface creating a brilliant projection.
Since its introduction,MicroLED Mediamesh ® has been embraced by the architectural community for its versatility and
ability to enhance a façade. Through digital technology and the visual power of energy-efficient LEDs, everything
from branding graphics to video, live broadcast to conceptual art, can be displayed on what has become the
"silver screen" of the 21st century.

Transparent Media Façades
1.Transform any building into a dynamic communications medium and are easily installed over any building
surface, conforming to a structure's unique shape and design.
2.Withstands climatic extremes including hurricane force winds, frigid cold and searing heat.
3.Provide a clean viewing experience.
4.Are made of MicroLED stainless steel architectural metal fabric with a profile less than 1" thick.
5.Include MicroLED -designed screen, installation components and brackets for functionality and aesthetics.
6.Shade the building and enable natural filtered lighting.
7.Offer multiple viewing solutions that consider viewing distance, angles and resolution requirements for all
conditions - balancing transparency and display resolution.
8.Utilize superior electronic and LED technology.
9.Are a turnkey solution with long term cost effectiveness and quick return on investment.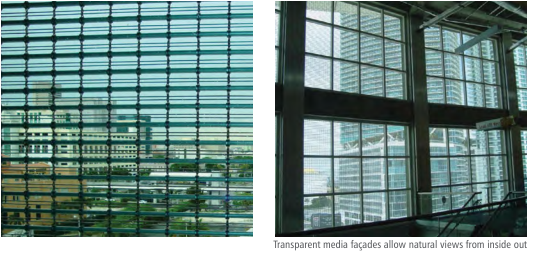 Construction Principle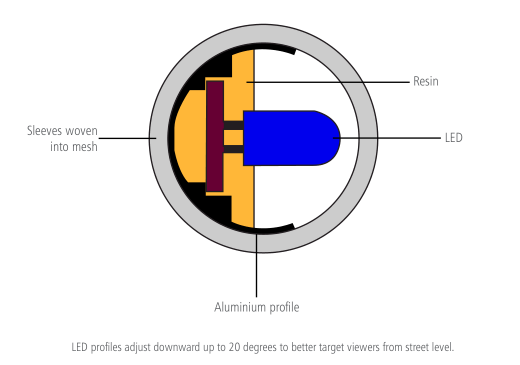 Product Benefits
Transparency
• Digital media platform with up to 60% transparency.
• Views of the building's unique architectural elements.
• Viewing from within the building to the outside.
• Natural daylighting and ventilation to the building surfaces.Supergraphics Display
• Average installations approximately four times the size of traditional billboards.
• Larger format allows a longer and broader viewing range and greater message rotation.
• Supports a wide range of advertisers on one display without compromising graphic quality of the message.
• Dynamic media presentation will draw attention and transform a building into a media icon.
• Available in multiple versions selected and recommended to meet your needs.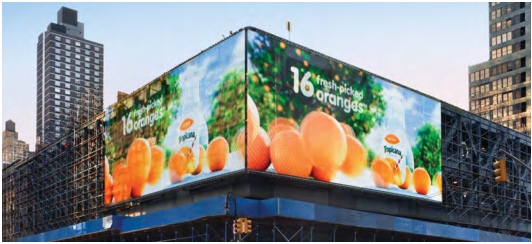 Digital Electronic Format / LED / Angles
• Allows unlimited message delivery options.
• Quickly change out messages – advertiser can convey market conditions, promotions, news, weather.
• Real-time messages for live event delivery such as sporting or music events.
• Versatile advertising packages in an outdoor venue for specific time of day/week/season.
• Civic messaging – National Emergency, Amber Alerts, traffic or weather conditions.
• Bold performance both day and night.
• High quality LED's with more than 90,000+ hours of high performance.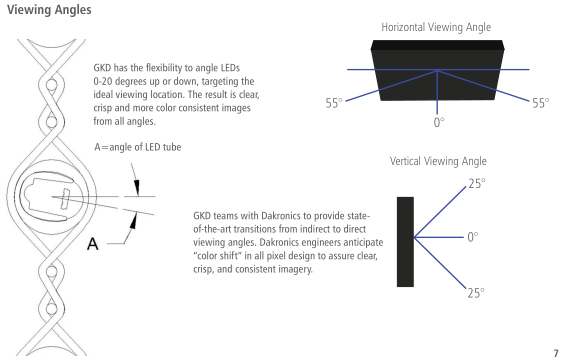 Sustainability
• Uses as much as 80% less electricity than LED boards.
• Automatic LED luminance control adjusts light intensity for ideal viewing and significant energy reductions.
• Mesh provides passive insulation from sun for sunshading, daylighting and improved air circulation.
• Only replace LED lights after useful life, stainless steel mesh is re-used.
Visual Appeal
• Images appear to float on the surface of the building.
• Visual experience is fun, dynamic and engaging.
• Visual presentation creates curiosity and attracts attention.
• Powerful motion graphics and color.
• Elegant advertiser branding.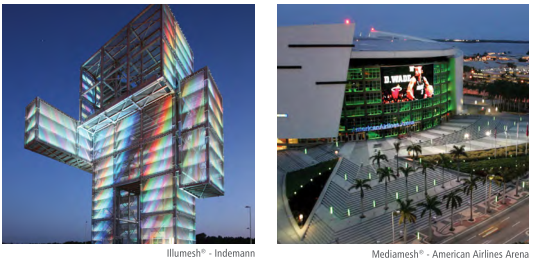 System
Installation
MicroLED provides the complete system and package – including the installation. And, we can put you in touch with
advertising and operations management to help you maximize content and revenue flow.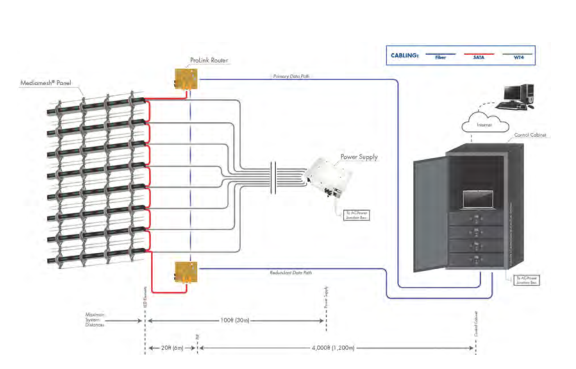 AMERICAN AIRLINES ARENA
MIAMI, FLORIDA
A Miami's Mediamesh ® marquee, the largest in the southeast,
displays concert and game footage in the plaza, creating
a public gathering space
Owner: AA Arena / Heat Group
Architect: ADC, Florida / ag4, Colgne
Dimension: 80 ft. wide x 42 ft. high
Total Area: 3,360 ft. 2
Total Pixel: 147,806 Px
Pixel Pitch: Ver. 50mm / Hor. 42.5mm
Facade Direction: Outdoor / West
Brightness: 6588 NITs
Completion: May 2009
LONG BEACH COURT BUILDING
LONG BEACH, CALIFORNIA
Artist Jennifer Steinkamp's work, Murmuration, is featured
using Mediamesh ® to accomplish art in motion. This artistic work
connects to a multi-story safety barrier of Tigris metal fabric.
Owner: State of California AOC
Architect: AECOM
Dimension: 25.7 ft. wide x 24 ft. high
Total Area: 4,700 ft 2 , 615 ft 2 Mediamesh ®
Total Pixel: 33,856 Px
Pixel Pitch: Ver. 40mm / Hor. 42.5mm
Facade Direction: Indoor / East
Brightness: 9100 NITs
Completion: August 2013
PORT AUTHORITY BUS TERMINAL
NEW YORK CITY, NEW YORK
A forgettable building becomes a model of modern tech-
nology with the world's largest transparent media façade.
Owner: Port Authority
Architect: A2a Media
Dimension: 169 ft. wide x 35.5 ft. high
Total Area: 6,000 ft. 2
Total Pixel: 256,800 Px
Pixel Pitch: Ver. 50mm / Hor. 42.5mm
Facade Direction: Outdoor / South
Brightness: 4730 NITs
Completion: June 2011
HENRY MADDEN LIBRARY
FRESNO, CALIFORNIA
Mediamesh ® became the canvas of the modern artist with
this art installation by Susan Masduli.
Owner: California State University
Architect: Narduli Studio
Dimension: 16.6 ft. wide x 32 ft. high
Total Area: 531 ft. 2
Total Pixel: 14,028 Px
Pixel Pitch: Ver. 60mm / Hor. 60mm
Facade Direction: Indoor / West
Brightness: 1940 NITs
Completion: December 2008
WINSTAR WORLD CASINO
THACKERVILLE, OKLAHOMA
The world's third largest casino is the first Mediamesh ®
installation using state-of-the-art LEDs in a six-pixel cluster.
Owner: Chickasaw Nation
Architect: Michael Huff, Chickasaw Nation
Dimension: 90 ft. wide x 30 ft. high (2)
Total Area: 5,400 ft 2
Total Pixel: 196,000 Px
Pixel Pitch: Ver. 60mm / Hor. 42.5mm
Facade Direction: Outdoor / North and West
Brightness: 6500 NITs
Completion: January 2012
Architects World-Wide Recognize MicroLED as the Authority on Metal Fabric Solutions
From concept to completion and every step in between,MicroLED Metal Fabrics is a service driven company.
Following an efficient design-to-build process that leverages collaborative project engineering,MicroLED consistently anticipates its clients' needs and exceeds their expectations.
To serve clients' unique requirements,MicroLED Metal Fabrics proudly offers a variety of installation service options.
• Instruction and Drawings:MicroLED Metal Fabrics provides suggestions, sketches or drawings and
offers the client the option of having their own contractor complete installation.
• Supervisory Oversight:MicroLED Metal Fabrics provides supervision on a contractual basis to ensure the
smooth implementation of the installation plan. On-site troubleshooting is available if necessary.
• Supervision and Installation: Once the substructure is prepared for the metal fabric,MicroLED Metal Fabrics
takes the lead on the product's complete installation.MicroLED Metal Fabrics takes pride in the fact that it is the
only company in the U.S. that manufactures and installs MicroLED metal fabric.
• Maintenance: Media façade maintenance is infrequent and typically minimal. The façade requires a simple
mechanical washing to eliminate natural contaminants and maintain display brightness. Factors such as heat,
operating intensity, corrosives, and operating durations will affect the life of the façade but LED life is typically
estimated in the 10 year or 90,000 hour range.MicroLED is available to inspect and service a façade as required.
• Warranty: GKD offers a complete warranty on all parts and components for the first year of installation.
Additional coverage terms are available up to 5 years from realization of the project.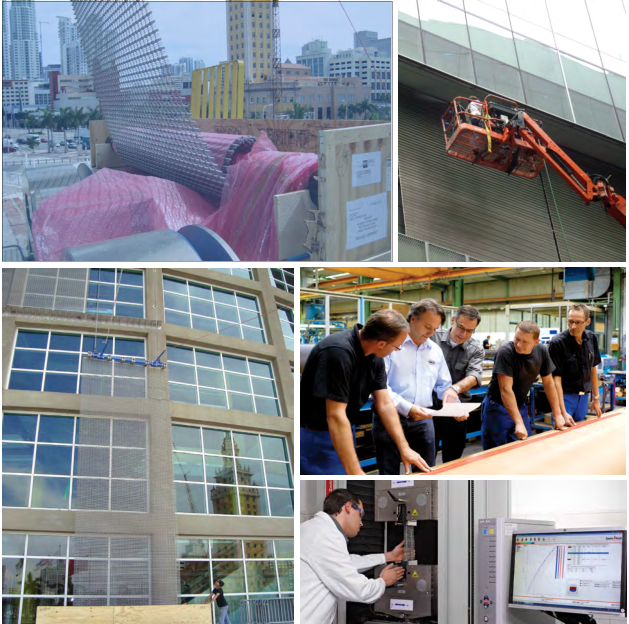 Get the latest price? We'll respond as soon as possible(within 12 hours)